How digital is the construction industry in the DACH region?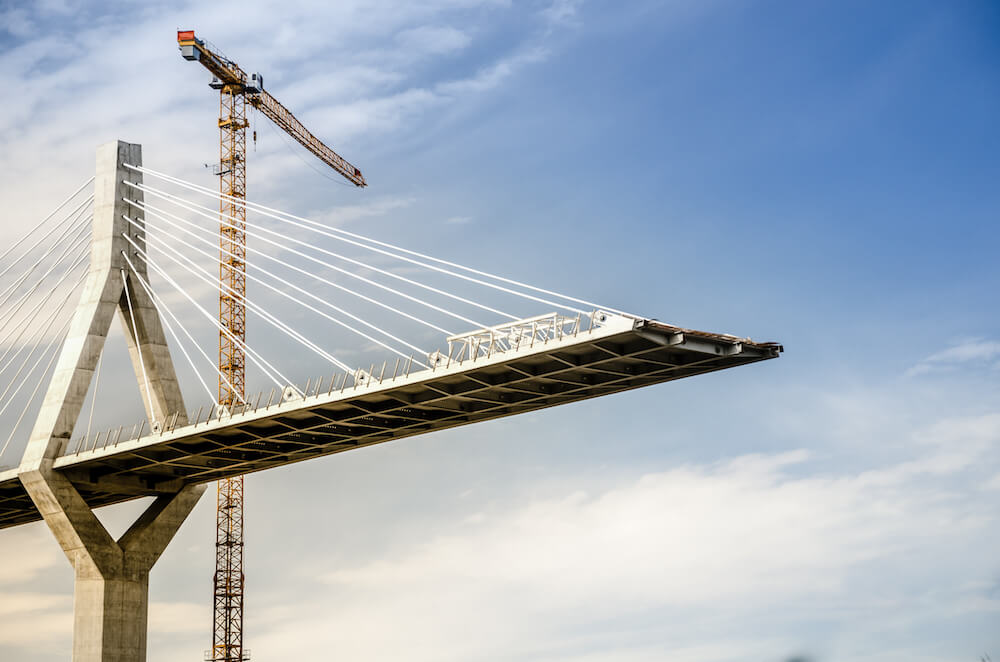 12 min read
The construction industry was hit by the pandemic just like every other industry. Although sales were less affected than in other industries, the consequences are evident in many areas and are forcing digital acceleration in order to stay ahead of the competition.
In the following article, Germany, Austria and Switzerland are examined in terms of their degree of digitization in the construction industry on the basis of current reports and studies. The countries are compared and specific challenges and opportunities are highlighted.
Disclaimer: Each region is structured differently since different studies and reports were used for analysis. However, I did try to keep a coherent structure as much as possible.
Content
The Construction Industry in Germany
General overview
In Germany, around 10% of gross domestic product is used for construction investments (source: BauIndustrie).
According to the "Report on the situation and outlook for the construction industry in 2021" (PDF), the pandemic has hit commercial construction particularly hard, while new residential construction has held up despite numerous restrictions. According to the report, renovations as well as public construction will also recover well. The reason why commercial construction has been hit so hard, is due to global conflicts that affected the demand for production and storage space in the German export-oriented industry.
Meanwhile, the major supply chain crisis has created significant demand for more local production and warehousing space and could therefore drive long-term growth in this sector.
Digitalization in the German construction industry
According to a PWC survey (PDF), three out of four construction companies tend not to feel any impact of Covid-19 on their business. However, this also means that the remaining 25% have been severely impacted.
Digitalization degree
Just under half (47%) of all surveyed companies perceive their own level of digitalization as high. However, many of the companies still see a need to catch up in almost all sub-areas:
Digital solutions (62%)
Operational processes (59%)
Administrative processes (40%)
Project processes (37%)
These very different degrees of digitization primarily indicate that individual areas are being digitized without an overall holistic digitalization strategy which is necessary to manage data and processes more transparently and includes connecting administration, operations and projects in a meaningful way.
The benefits of digitalization for the construction industry
Better collaboration with all stakeholders (78%)
More efficient project phases (53%)
Cost reduction (46%)
Improved material procurement (28%)
Process digitization is top priority
The pandemic has significantly accelerated various digitalization projects to digitize processes and make the work environment more flexible (e.g., via more remote work options). These two points were pursued far more intensively by the German construction industry compared to other accelerated topics. On average, around 90% have actively pushed these topics. In contrast, restructuring the company organization (48%), developing new business models (43%) and investments (26%) have only been partially accelerated.
The majority cite the shortage of skilled workers as the biggest hurdle in the use of digital solutions. Companies must become more proactive in offering or enabling training and education. In fact, according to PWC, companies name training as one of the top 3 measures for ongoing digitalization (in 1st place, by the way, is the expansion of digital infrastructure).
Another measure to tackle the lack of skilled employees is to increase user-friendliness of digital solutions (e.g., via no-code/low-code, intuitive interfaces, automated workflows, etc.).
It is also interesting that the biggest goals are primarily in collaboration and communication. This is not really surprising, since the construction industry is already very advanced in many areas, but still has to catch up regarding the more internal processes and working models which is why this topic ranks third among the greatest challenges right after supply chains and raw material availability.
What do companies want?
The companies surveyed said that the cloud (81%), laser scanning (80%), simulation & visualization (77%) and real-time reporting (67%) had the greatest potential (and capabilities).
While laser scanning and simulation & visualization predominantly support operations and innovative maintenance, handling and optimization, the use of cloud-based technologies is relevant for the entire company (read more here).
It's also a positive trend that real-time reporting is gaining importance since the last few years have shown that companies need to be able to have situational, quick and comprehensive information at their fingertips at all times in order to be agile.
I am also optimistic about the fact that the greatest potentials mentioned cover various business areas, which implies that the construction industry is well aware that digitization must be holistic.
An important number from the report is the fact that demand for digital solutions in tenders has more than doubled from 2020 to 2021 (12% to 32%). Digitalization therefore not only concerns internal optimization but will also become increasingly relevant to gain customers.
Read more about the general digitalization status quo of Germany in our Spotlight series.
The Construction Industry in Austria
General overview
In Austria, construction accounts for more than 7% of the gross domestic product.
According to PlanRadar's overview of the Austrian construction industry, the order situation looks good, due to the shortage of skilled workers the demand might even be too high. As a result, the industry already complained in the previous year (2020/2021) about far more orders than could be processed. Main reasons are the lack of apprenticeships and a labor market that still needs to be optimized to attract female employees.
Supply bottlenecks and the resulting reduced availability of materials are causing problems in Austria as well, especially in terms of price increases, which, coupled with inflation and the current energy crisis, will have a significant and probably long-term impact on the industry.
In addition, the trend toward remote work is causing a significant reduction in demand for office space. Even hybrid work models fundamentally require smaller office spaces, as on-site workstations are rarely expected to be fully occupied. Therefore, demand for commercial buildings - just like in Germany - is decreasing.
PlanRadar, meanwhile, sees a very attractive development in the area of building refurbishment, not least due to climate change, which pushes demand for sustainable buildings (heating, cooling, water heating). Meanwhile, in contrast to Germany, the public construction sector in Austria is less eager to grow due to austerity measures. In fact, capital expenditure for 2022 has been cut by 11%.
The bottom line is that the Austrian construction industry is much more affected by the global disruptions than Germany. For example, growth of 2.6% is expected for 2022 and only 1.9% for 2023. For companies, the optimization of processes as well as the efficiency of projects is becoming increasingly important in order to remain competitive.
Digitalization in Austria's construction industry
Mittelstand Global has published an overview of "Digitization in the Construction and Real Estate Industry" (PDF), in which digitization measures should offer operational benefits and in particular to increase sustainability and efficiency.
"The construction industry and the operation of buildings (represent) about 30% of the CO2 footprint and 90% of the material resource use. Thus, the construction sector has an essential role in the context of the necessary sustainable CO2-neutral economy in the future."
In Austria and Switzerland, the term BIM (Building Information Modeling) is used almost synonymously with the holistic digitization of construction processes. In this process, the digital life cycle of a project is mapped holistically in order to track, control and optimize all steps with the right data and interfaces. According to Mittelstand Global as many as 20% of the companies surveyed in Austria use BIM (2021).
---
A modern CRM system is the foundation of a holistic digitalization strategy. Is your CRM up to the task? Find it out with our Self Check.
---
Degree of
Digitalization
The "City of the Future" project has produced a trend analysis (PDF) to examine the impact of digital transformation on the labor market. The analysis concludes that despite many innovative solutions, application in practice is lower than expected. In fact, the report describes the construction industry as a "digitalization laggard."
On the other hand, it's not very surprising that large companies usually are much further in their digitalization than most SME.
The biggest hurdles
When it comes to the biggest digitalization hurdles, the report cites both the "classics" (costs, effort, regulations) and cultural or educational issues:
Cost
Interfaces & compatibility
Hardware requirements
Data management effort
Regulations & compliance
Competence development
Acceptance
Demand
Data protection
Use of digital technologies
It is particularly interesting to look at the "basics" of digital technologies that are being used in the Austrian construction industry. In addition to 3D models that can be enriched with data (BIM 3D model), applications for projects and construction sites, architectural visualization via virtual and augmented reality, digital tenders, the Internet of Things and product information management are also mentioned. This sounds like a healthy mix of solutions that ensure greater operational efficiency and transparency as well as smart access to data and the digitization of customer processes.
By the way, virtual and augmented reality in particular is also relevant for the Swiss market and can be used in the construction industry not only for customer processes but also overall to plan, present and optimize construction projects better and more accurately.
Digitalization potential
Collaboration and transparency are mentioned as big potentials in addition to cost and time savings. It is interesting that, compared to the German study, innovative topics (VR & AR) are also counted among the basics that can bring competitive advantages in marketing.
In the area of Advanced and Innovation, keywords such as VR/AR-supported construction project management, the use of drones for renovation projects, robots in construction, artificial intelligence and even blockchain are mentioned. The Austrian construction industry seems trend-conscious, at least in theory, but has yet to translate this to practical digitization projects.
Read more about the general digitalization status quo of Austria in our Spotlight series.
Digital Construction Industry in Switzerland
General overview
In Switzerland, the construction industry contributes 15% of the total gross domestic product and employs one-third of all employees in the industrial sector.
High competition, investment shifts due to the pandemic as well as the already mentioned decreasing demand in office and commercial real estate are challenges for the Swiss construction industry and therefore align with the general situation in the DACH market.
According to a PWC study (PDF), Swiss construction companies are finding it difficult to stand out from the competition. In addition, rising material prices are often difficult to reconcile with the price wars on the market. Digitalization can significantly help to develop new business models and positively shape brand perception.
While an average of 79% of the companies surveyed don't complain about skill-shortage, large companies still struggle to find qualified employees and meet the volume of orders.
Benedikt Koch, director of the Swiss Association of Master Builders, says in an interview with PWC that low interest rates mean that real estate trading remains very attractive, but the growing number of empty apartments in Switzerland could lead to a reduction in projects, especially in less urban areas.
Sustainability also plays a major role in Switzerland, which is why renovation projects are experiencing growth. In addition, Koch mentions replacement construction to make better use of open space in urban areas.
According to the PWC report, 42% of all companies surveyed are rather pessimistic about their future prospects since the pandemic, which is a significant increase of over 500% (before the pandemic, only 8% were pessimistic).
The major challenges (price war, lack of differentiation & interest rate turnaround) are seen by the majority as a threat rather than an opportunity for change, which underlines the rather gloomy outlook of many Swiss construction companies. This contrasts with an actually positive development in revenue, which increased on average and have even risen enormously for civil engineering.
Digitalization in the Swiss construction industry
According to the PWC survey, digitalization and innovative technologies (in addition to holistic problem solving and sustainability) are perceived as opportunities for the industry. Process optimization in particular is focused and firmly linked to digitization. In addition, innovative market appearances are being sought.
It is not entirely insignificant that both Austria and Switzerland see considerable advantages and innovation potential in marketing, while - at least according to the cited studies - the German construction industry appears to be more focused on internal and operational areas.
Degree of Digitalization
The Digital Real Estate Survey 2021 (PDF) puts the level of digitalization in the Swiss construction and real estate industry in the midfield, but states that it has grown from 2020 to 2021. Germany was used for comparison and receives a higher digitalization level (Switzerland: 4.1 vs. Germany: 4.6 out of a total of 10 points).
In contrast to the other reports/countries, digitalization does not seem to have accelerated the Swiss construction and real estate industry. Reasons are the postponement and pause of various investments, while the main focus was on optimizing customer relationships instead of holistic digitalization. Incidentally, this result is also supported by the PWC report.
In the long term, the industry needs to turn back on a complete digitalization strategy since customer processes are heavily dependent on an overall digitized company.
62% of all companies surveyed see digitalization as a priority. Conversely, this means that every third company does not classify digitalization as important. It is striking, but not surprising, that large companies in particular are more likely to recognize the relevance (80%) than smaller companies.
43% of surveyed companies invest 1-5% of annual sales and as many as 24% invest more than 5% for digitalization. It is surprising that small companies in particular invest more (in percentage). An explanation might be the initial cost for digitalization which can't be reduced even for smaller companies and therefore necessitates a comparatively higher initial investment to implement the right infrastructure.
Priorities of
Digitalization
For 63% of respondents, Building Information Modeling (BIM) is relevant for their company, with relevance predominating in the areas that tend to produce and build, which makes sense, theoretically. Service providers and managers see less relevance but should at least have the ambition to consider BIM for collaboration with other stakeholders in order to avoid data silos and information gaps.
According to the PWC study, customer centricity in particular has gained enormous relevance along with product/service innovation.
In service delivery (process optimization, stakeholder relations, investments, etc.), the relevance has not increased quite as much, but this could be simply because these topics already had high relevance in the past and therefore did not need to increase as much.
---
Read how Pavatex managed to implement the Salesforce Multi-Cloud in only five months.
---
A bit of a mystery is the dissonance between the increasing relevance of general topics such as customer relations and product/offer innovation compared to digital priorities (administration processes, marketing and integrated planning).
Data management, collaboration (somewhat incomprehensively grouped here as BIM), and machine learning for maintenance are cited as important but are not prioritized. Customer experience via AR/VR, automated manufacturing processes, and building use simulation tend to be rated as less relevant.
My theory is that questions about core topics as well as core digital topics were not quite aligned to include current digital innovations. As a result, exciting industry technologies are featured but are not necessarily connected to the most pressing strategy topics.
No priority for automation
What is surprising, however, is that automation in particular is ranked poorly according to the Digital Real Estate Survey 2021. But automation offers some of the biggest efficiencies across almost all companies when it comes to data management, marketing, reporting, etc.
The answer may lie in the most important foundation for automation: data quality. Data is somewhere in the middle of priorities across all countries but should not be underestimated. Without clean, centralized and structured data, hardly any significant benefits can be derived from any digitalization projects.
It should not go unmentioned that cyber security is specifically included in the reports for the Swiss construction industry. Although the construction industry does not seem to have half as sensitive data sets as healthcare providers or the financial sector, reasons for data protection have changed. Most data attacks are not about the data itself but are used as a ransom for blackmail and therefore can cause considerable damage on any market (read more about it here).
According to the Digital Real Estate Survey 2021, the top 5 technologies for Swiss companies are:
BIM
Data Science
Internet of Things (Sensors & Actuators)
Platforms & Portals
VR & AR
Read more about the general digitalization status quo of Switzerland in our Spotlight series.
Conclusion: The DACH construction industry must act more holistically
Even though the three markets (DE; CH; AT) have different levels of digitalization, challenges and priorities, a clear picture is emerging: companies need to move from digitizing individual areas to an overarching digital transformation in order to have transparency and control at all times throughout the project lifecycle.
Accordingly, it is important that the BIM model gains popularity (and hopefully does not become too watered down). BIM is complex, but it can be launched from individual areas if the appropriate solutions are implemented in a way that allows scaling, connections and customization. If successful, not only the entire company but also all stakeholders (customers, service providers, suppliers, etc.) can gradually be connected to work and collaborate better, faster and with more transparency.
The construction industry has the potential to evolve from basic digitization projects to strategic digitalization and therefore real innovation (read more here). Of course, this is already happening in individual companies, but in the service sectors in particular, there is a lack of awareness of how important digitalization is for marketing, or across the entire customer and partner journey.
---
Salesforce is your partner for a swift, customizable digital transformation with intuitive interfaces, a multi-cloud environment and a system that is made to connect with your infrastructure.
Juliane Waack is Editor in Chief at DIGITALL and writes about the digital transformation, megatrends and why a healthy culture is essential for a successful business.